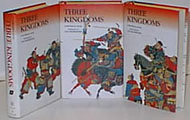 THE ROMANCE OF THE THREE KINGDOMS
This book is a historical epic covering the period of the Late Eastern Han Dynasty(184-280 AD). It covers the conflicts, intrigue and final unification of the three kingdoms of Wei, Shu and Wu. The novel is believed by experts to be about 70% fact and 30% fiction. It also covers strategy and political conflicts of the three warring states as they strive to defeat each other in final conquest. This book shows many of the practical strategies and politics that are evident in the principles of many of the Chinese philosophies, such as in The Art of War by Sun Tzu the I-Ching and the Tao Te Ching
3 Volume Hardcover $108.00 Paperback $69.95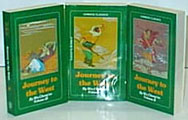 JOURNEY TO THE WEST
This novel is written by Wu Chengen (1500-1582) and is a description of the mythic journey of a Buddhist monk, Tripitaka or Xuanzhuang and his followers of Monkey, Pigsy and Sandy. This novel contains one hundred chapters aid follow the travels and adventures of the four main characters as they travel to India for Buddhist Scriptures. Monkey is the main character in the novel, and the opening seven chapters deal with how he came into the world, the next five chapters from chapter eight deal with the preparations for the journey, and the remaining eighty eight chapters deal with the journey, and the monsters encountered and defeated along the way.
3 Volume Hardcover $108 Paperback $79.95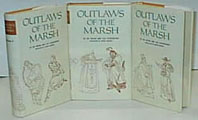 OUTLAWS OF THE MARSH
In this epic novel the lives of one hundred and eight men and women who banded together on a mountain top surrounded by marshes and revolted against government troops and local despots are told. This novel is the first of its kind to describe in such a panoramic fashion the rise and eventual defeat of one of the many local uprisings that occurred throughout Chinese history. This book is set between the years of 1101 and 1125 during the reign of the Emperor Hui Zong of the Song Dynasty
3 Volume Hardcover $108.00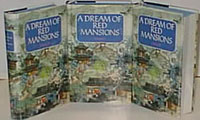 A DREAM OF RED MANSIONS
This book was written by Cao Xuequin(??- 1763) and first appeared under the title The Tale of the Rock, it was though reprinted in 1791 under the current title. This novel is the premier romance novel of Chinese literature, it involves the love between Jia Baoyu and his cousin Lin Daiyu, set against the decline and ruin of the family of Young Baoyu. The book contains one hundred and twenty chapters, the first eighty are by Cao, and end with Baoyu being forced to marry another cousin, the next forty chapters, although trying to remain true to the style of Cao end in a happy reunion of the couple, that would seem counter to the original intentions of Cao.
3 volume Hardcover $108.00