Chinese Colour and Ink

Colour Chips: These chips are the traditional Chinese way of using colour. They are made of natural plant and mineral pigments and are used in the same way that western dried watercolour chips are used by simply adding a few drops of water.

Tube Colour: These watercolours are made using the same pigments as the Colour Chips. They are preferred by students because of the convenience, however the strength of their colour is not of the same quality as the Colour Chips.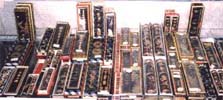 Ink Sticks: These sticks are made of Oil Soot or pine soot. The sticks are used by grinding them against an ink stone with a small amount of water until the right consistency is reached. Colours are also available in the Ink Stick range.

Bottled Ink: This Ink is essentially the same as the sticks. The bottled Chinese inks are a pure black and tend not to blue when diluting. We also stock a Gold which when applied resembles gold leaf.

Ink Stone (Slab): These stones are made of a hard smooth stone, for grinding ink sticks.
| | | | |
| --- | --- | --- | --- |
| Code | Item | Size | Unit Price |
| IC001 | Yi De Ge ( Liquid Ink ) | 100ml | $6.50 |
| IC002 | Yi De Ge ( Liquid Ink ) | 250ml | $10.50 |
| IC003 | Cao Su Gong ( Liquid Ink) | 100ml | $5.50 |
| IC004 | Cao Su Gong ( Liquid Ink ) | 250ml | $9.50 |
| | | | |
| --- | --- | --- | --- |
| Code | Item | Size | Unit Price |
| IC005 | Longevity ( Oil Suit Ink Stick ) | 2 OZ | $9.80 |
| IC006 | Pine Tree ( Mat Ink St) | 2 OZ | $9.80 |
| IC007 | Colour Ink Stick 2 oz each | 5/Box | $49.95 |
| | | | |
| --- | --- | --- | --- |
| Code | Item | Size | Unit Price |
| IC013 | Chinese Painting Colour | 12/Box | $9.80 |
| IC014 | Individual Colour avaliable | Tube | $1.10 ea |
| | | | |
| --- | --- | --- | --- |
| Code | Item | Size | Unit Price |
| IC032 | Pigment - Gamboge | 3g/Box | $6.80 |
| IC033 | Vermilion | 3g/Box | $6.80 |
| IC034 | Cinnabar Powder | 3g/Box | $9.80 |
| IC035 | Rouge | 3g/Box | $6.80 |
| IC036 | Carmine | 3g/Box | $6.80 |
| IC037 | Burnt Sienna | 3g/Box | $6.80 |
| IC038 | Indgo | 3g/Box | $12.80 |
| IC039 | Sky Blue | 3g/Box | $4.85 |
| IC040 | Red | 3g/Box | $4.85 |
| IC041 | White Lead Powder | 3g/Box | $5.80 |