Seals
>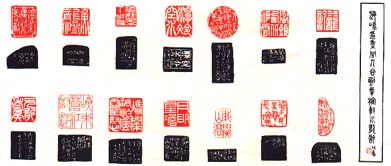 Seals: The carved seals are the traditional Chinese way of signing your work.
Traditional the seals would be used in the painting as an element of the composition, indeed connoisseurs and collectors of Chinese painting would add their own seals to the works in their collection, placing their seals tastefully within the composition of the >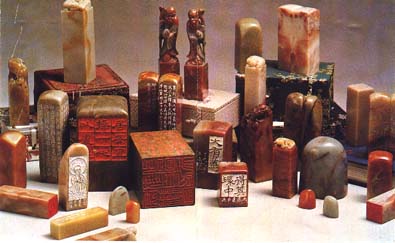 work. The range seals we stock come in three different types of stone, Green Farm Stone, Mongolian Barling Stone and Longevity Mountain Stone. The stones come in a wide variety of sizes and shapes, from squares and rectangles to irregular oval shapes. The carving of the seals can be done in either positive or negative as well as in different styles, such as Ancient Seal style or Han Dynasty style etc.


Inking Pads: These pads used the traditional cinnabar red, which in noted from its intensity and longevity. We stock pads for all sizes of seals.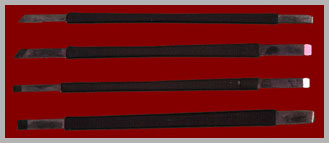 Carving Tools: These tools are used fro the carving of the stone for seal caring. We sell both individual tools as well as sets of tools.




>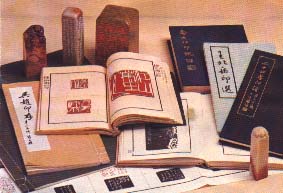 Carving Service: We can translate your name to Chinese and have your name carved on the seal stone. You too can have your signature on each piece of your art work. We also have some ready made seals available. From $98.00 each, you can select from our range of ready made seals. Following is the meaning of our ready made seals.


<![if !supportLineBreakNewLine]>
<![endif]>

| | | | |
| --- | --- | --- | --- |
| Code | Item | Size | Unit Price |
| SE001 | Ink Pad no.6 | | $16.95 |
| SE002 | Ink Pad no.5 | | $19.95 |
| SE003 | Ink Pad no.4 | | $24.95 |
| SE004 | Ink Pad no.3 | | $29.95 |
| SE005 | Ink Pad no.2 | | $38.95 |
| SE006 | Ink Pad no.1 | | $43.95 |
| SE007 | Ink Pad Special | | $32.95 |
| | | | |
| --- | --- | --- | --- |
| Code | Item | Size | Unit Price |
| SE008 | Seal Carving Knife | | $11.95 |
| SE009 | Seal Carving Pack | 4/Box | $32.95 |
| | | | |
| --- | --- | --- | --- |
| Code | Item | Size | Unit Price |
| SE010 | Seal Stone - Plain | 15*15 mm | $15.00 |
| SE011 | Seal Stone - Plain | 20*20 mm | $25.00 |
| SE012 | Seal Stone - Plain | 25*25 mm | $35.00 |
| SE013 | Seal Stone - Plain | 15*30 mm | $30.00 |
| SE014 | Seal Stone - Plain | 30*30 mm | $45.00 |
| SE015 | 12 Zodiac Seal Stone | 18*18 mm | $35.00 |
| SE016 | 12 Zodic Seal Stone | 20*20 mm | $45.00 |
| SE017 | 12 Zodic Seal Stone | 25*25 mm | $55.00 |
| SE018 | Bailing Seal Stone | 20*20 mm | $75.00 |
| SE019 | Bailing Seal Stone | 25*25 mm | $85.00 |
| SE020 | Animal Seal Stone | 30*30 mm | $68.00 |
| SE021 | Animal Seal Stone | 10*20 mm | $45.00 |
| SE022 | Animal Seal Stone (oval) | 20 mm | $48.00 |
| SE023 | Animal Seal Stone (Round) | 20 mm | $58.00 |
| SE024 | Animal Seal Stone (Round) | 25 mm | $68.00 |
| SE025 | Animal Seal Stone (Round) | 30 mm | $78.00 |
| SE026 | Nature Shape Seal Stone | | $35.00 |
| SE027 | Nature Shape Seal Stone | | $45.00 |
Accessory and Carving Service Price List
| | | | |
| --- | --- | --- | --- |
| Code | Item | Size | Unit Price |
| SE028 | Seal Box | S (8*3.4*4) | $10.00 |
| SE029 | Seal Box | M (8*4*2.5) | $12.00 |
| SE030 | Seal Box | L (9*4.5*3.5) | $15.00 |
| SE031 | Seal Carving Service ( from $80) | Per Character | $35.00 |
| SE032 | Ready made seals | each | from $98.00 |